Nokia Treasure Tag will not work on Windows Phone 8.1 Developer Preview
May 22, 2014
TL;DR: The Nokia Treasure Tag does not work with the Developer Preview of Windows Phone 8.1 yet.
With the upcoming Lumia Cyan update this will be fixed.

On Windows Phone 8.0 it works fine.
Today I found a long awaited package in my mail box, containing the Nokia Treasure Tag gadget.
The Nokia Treasure Tag is a small device that can be attached to one's belongings (like keys, purses, laptop bags, ...) and it notifies its owner if these belongings are left behind. That way, leaving the house without one's keys should be a thing of the past.
The Treasure Tag is an inconspicuous little device, which came in the typical Nokia branded packaging. I chose the blue one, but it is also available in black, white or yellow.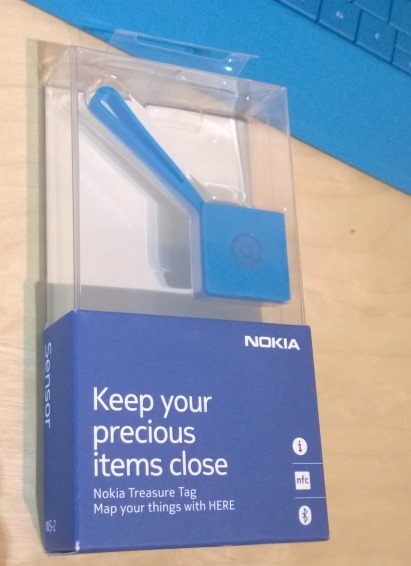 The device itself has a size of 30mm x 30mm which is acceptable for a key ring or something one would put into a purse. Here's a picture of the Treasure Tag sitting on my keyboard to give you an idea of its dimensions.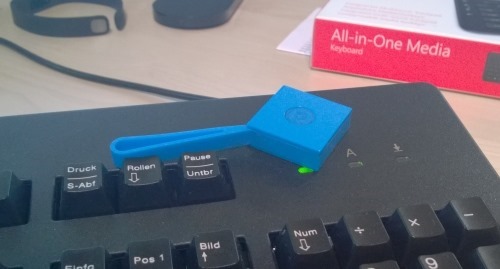 Then I tried paring the Treasure Tag with my Lumia 920 using NFC and here's what happened:
First everything seemed to be OK, the NFC pairing brought up this splash screen which pointed me to the Treasure Tag Windows Phone App, which I conveniently (impatiently) had installed already.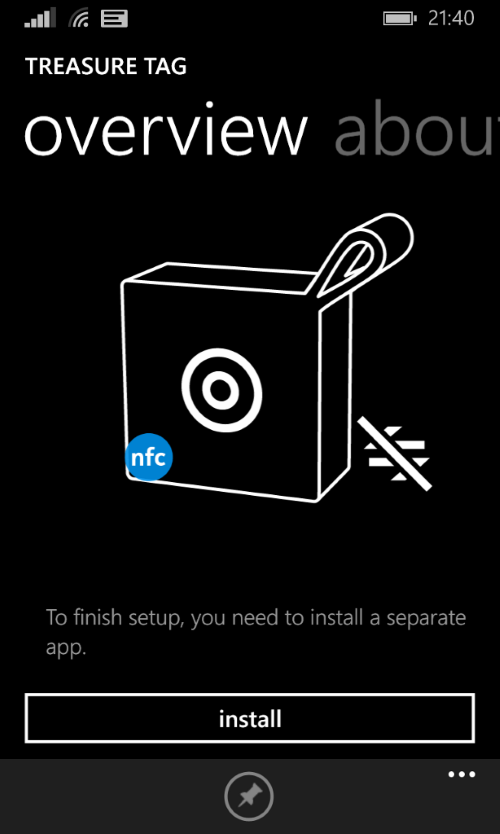 Good so far: I the started the app and tried pairing the phone with my new gadget. But all I got was this paring screen but the actual connection never happened. What's was going on?!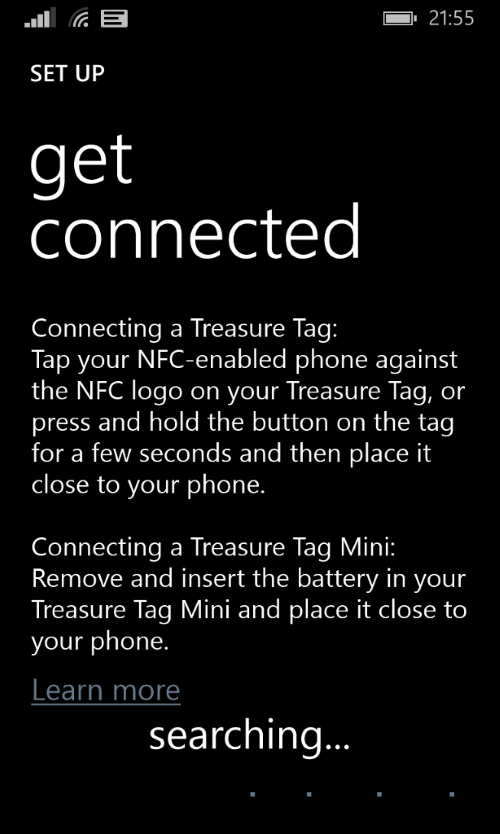 The Great Disappointment
Having installed the Windows Phone 8.1 Developer Preview (which is fantastic BTW), I had overlooked one important detail: Windows Phone 8.1 Preview for Developers disables Bluetooth 4.0 LE, which is needed for Treasure Tag to work.
Reading through the app's reviews, I immediately figured out that I was not the only one having this issue and the hint about the Lumia Cyan update was actually to be taken seriously - we had been warned ;-).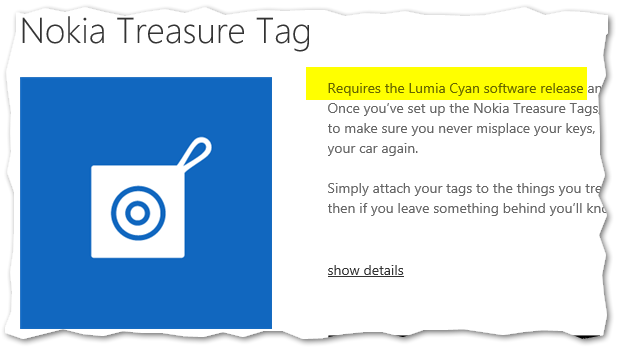 Well, time will fix this. Being an early adopter of Windows Phone 8.1 has been great so far and this is the first drawback I experienced. No big deal actually.
I will update this blog post (or create a new one) as soon as my Lumia 920 gets the update which will enable this feature. So stay in touch.