Building a Wallmount for my Surface RT (Mark I)
July 5, 2013
The Surface Pro became available in Austria a couple of weeks ago and I immediately got myself one of these awesome devices. Being able to run Office, Live Writer, Visual Studio and all my other apps and programs, this Surface Pro completely replaced my HP Pavilion Notebook as my primary mobile PC. Unfortunately, this also left the Surface RT device I had acquired only last year more or less unused, which felt like a huge waste.
The Idea
After thinking for a while how to best put the Surface RT back into action, the idea of a family / kitchen PC came to my mind. But it had to be something better than just putting the tablet onto the kitchen table or counter where it would probably fall into oblivion soon again. No, this device clearly deserved a better solution, making it a central hub of information and entertainment in our kitchen and dining room.
Wall mounting the Surface RT and thus having a multi media touch panel inside our kitchen seemed like the ideal idea.
I spent some time looking for an existing off-the-shelf wall mounting solution for a Surface RT but just did not find what I had in mind. Most solutions had a cradle-like approach, making it easy to put the device in and out of it, with the power cable dangling free. I, on the other hand, was looking for a permanent installation which blending into the room like a picture or a piece of furniture. So I decided to give it a try and start tinkering.
The Implementation
The main component I needed for my custom wallmount solution was a frame. I went with a plain old picture frame, which I got from the hardware store for less than 10€.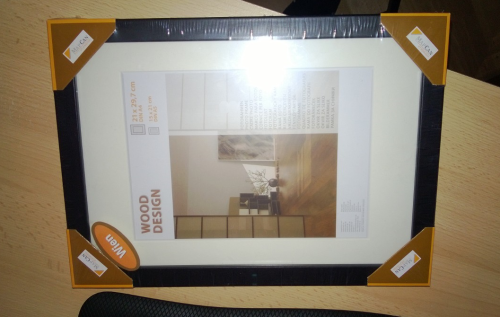 I also got a couple of felt strips and stickers and attached them to the inside of the frame to create a soft padding for the Surface RT device.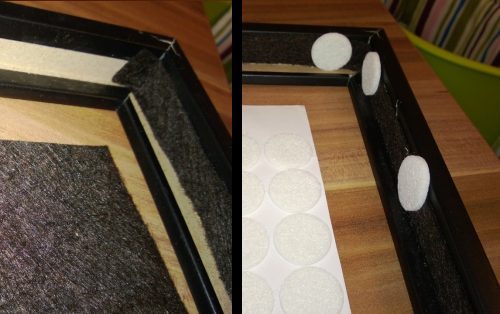 Of course, the picture frame did not have the exact dimensions needed to hold the Surface RT so I had to disassemble the frame, trim the 4 parts with a saw and put them together again.
This was were things went kind of awry!
As it turned out, I had been a bit inaccurate when cutting the bevels and so the trimmed pieces just wouldn't fit nicely together anymore. Nooooooooo!!!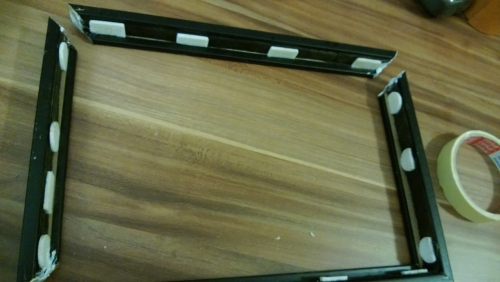 So, there I was: sitting in the kitchen (I do not have a workshop) in a cloud of sawdust, with glue on my hands, my wife being mad at me because of the mess I created and a project on the verge of failing. But I wasn't ready to give up yet and decided to improvise things a little bit.
And luckily, duct tape saved the day!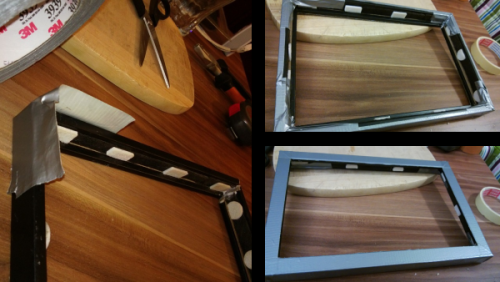 Of course, this wasn't the nice looking solution I had had in mind originally, but it served the purpose and brought my project back on track.
I duct-taped the frame pieces together, cut out the notches required to fit the power cord and my prototype (meanwhile I had decided to call it that) was almost done.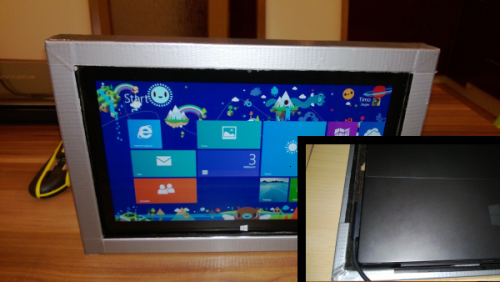 The Result
Mark I of my custom wallmount for Surface RT is already operational and features a couple of very useful and cool purposes:
It's a digital picture frame, due the cool enhancements of the lock screen in Windows 8.1.
The TuneIn Radio app makes it an internet radio player.
The built-in music and video apps stream content from both my local media server and from the XBOX online sources.
OneNote lets us synchronize e.g. our shopping list, which is really useful from a device sitting in the kitchen.
The built-in weather app is also really nice.
Internet Explorer and Bing always come in handy for quickly looking things up (or browsing randomly, of course).
The Fresh Paint app is awesome for doodling. I used it for the "Mark I" drawing on the picture below.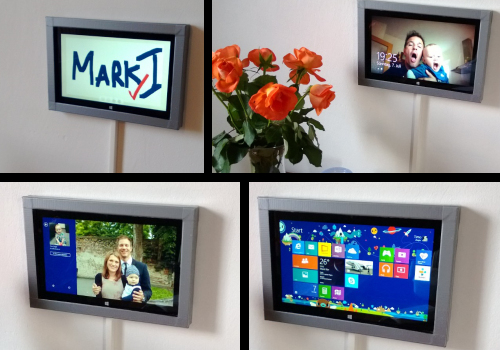 The Future
Surface Wallmount Mark II is already at planning stage. I found a company on the internet manufacturing custom picture frames based on specified dimensions. A custom frame which should nicely fit the Surface RT device is already on the way and will hopefully soon replace the duct-taped prototype.
Of course, there will be a blog post on the Mark II version of this project, as well as an updated version of the apps I use: so stay tuned.