Windows Phone 8 Launch
October 30, 2012
After the recent Windows 8 launch, we will get some more goodness in today's Windows Phone 8 launch. These are the notes it took throughout the Webcast.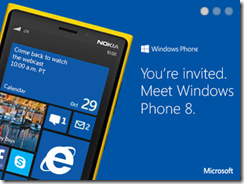 Joe Belfiore leads through the event.
The core OS is shared with Windows 8. The app store has 120.000 apps and is growing. Currently 50 languages are supported in 191 countries. "People are at the center of experience" – not icons and apps. New live tiles can be configured in size. Live Apps can integrate into the wallet, hubs and - this is new - the lock screen. The user can choose which app integrates into the lock screen (e.g. the new Facebook app). The Twitter app finally got an update. There is a decent Skype app on Windows Phone 8, which is always on without draining your battery. 46 out of the 50 most heavily used Apps are available for Windows Phone 8. "Angry Birds – Star Wars" is available. "Data Sense" helps keeping control of data costs when using your phone. It keeps tracks of all app's data usage. Also it finds WIFI hotspots and compresses every web page to get more out of your data plan. Windows Phone 8 solves the "Daddy, can I play on your phone?" issue. "Kids Corner" creates a safe place on a phone which kids can use. Jessica Alba is a Windows Phone 8 user and live on stage now! Even iTunes (for those using that crap) music can be synced to Windows Phone 8. "Rooms" are places on your phone to share with family or close friends that can even be shared with other devices. SkyDrive lets you move documents, photos and videos between Phone, PC and XBOX. SkyDrive offers 7GB of free storage. XBOX music service also works across all devices and syncs your play lists over the cloud. Steve Ballmer enters the stage and demo's some devices. Nokia Lumia 920. The only phone with optical image stabilization. Samsung ATIV S. Huge screen and feather light. HTC Windows Phone 8X. Killer sound (comes with beats head phones). This weekend these devices will be available. The Windows Phone 8 SDK will be downloadable by all developers on Tues, Oct. 30.