My Awesome Family of Windows Devices
November 1, 2012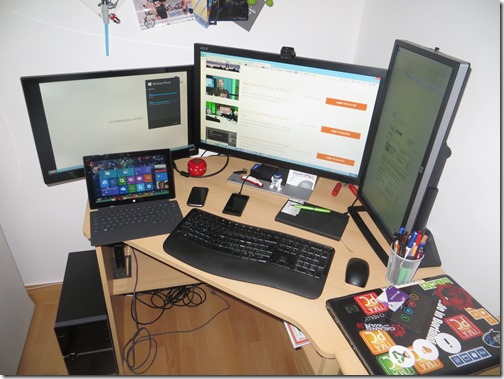 Celebrating the arrival of its newest member (Surface!), I figured this would be a good time to share the current composition of my gadgets and devices setup.
My main development PC is an Asus Vintage V7, Intel i7-3770 (Ivy-Bridge) QuadCore processor with 16GB RAM and a 120GB SSD primary hard disk. The graphics card is an AMD Radeon HD7770 which is driving three monitors (3-mon is the new dual-mon!). The operating system is Windows 8 (64-Bit) since the first RC was out and running smoothly ever since. As the Windows Experience Index points out, SSD hard disk performance could be better, but all in all, this system feels and handles lighting fast and is a pleasure to work with.

The laptop - an HP Pavilion dv6500m - is already a few years old but thanks to a 4GB RAM upgrade and an SSD hard disk (Crucial CT128M4SSD2) it still feels like state of the art hardware and I am using it regularly, also for development purposes. I originally bought this laptop with an installation of Windows Vista, but upgraded it to Windows 7 and Windows 8 (64-Bit) over time. The Windows Experience Index has a rather low value of 4.0 due to the graphics hardware but average RAM and processor power in addition to a really fast SSD make for a nice overall experience.

Under the desk and therefore hidden on the picture above, is my Windows Home Server, an Acer Aspire EasyStore H341, which I upgraded to Windows Home Server 2011(64-Bit). I use this machine as a central backup location as well as a file and media server for all my connected devices. Also on the picture you notice two Windows Phone devices, the first one being an HTC Mozart, which served me really well for about a year until Nokia made their Lumia phones available. At that time I felt that I had no other choice than "Switch to Lumia", for I more or less fell in love with these devices at first sight. Pretty soon though this Lumia 800 will also have to make way for a new Windows Phone 8 device – probably another Lumia.
And – last but not least – the newest member of my awesome family of Windows devices is Surface running Windows RT. Well, what could I say about this device that would truly express my feelings (love!) towards it? It basically had me at "hello", i.e. at the its presentation a few months ago. Since then I have been waiting eagerly for its availability and now it feels like Christmas and Easter fell on the same day. I will not go in any details about its hardware or software specifications since numerous reviews have been published already, but I am just giving my personal impression of this device, which - in a nutshell – is: "It is awesome and I love it"! The way it responds to interaction, the way it is built and manufactured, all the nice little details, it simply feels: Complete! Done! A fully mature product! Well done Microsoft! Keep the good stuff coming!