60.000 App Downloads
March 25, 2013
Just recently I published a blog post about having hit the 50.000 downloads mark with my Windows Phone apps. I am glad to announce that this trend has continued and download numbers have even increased culminating in more than 60.000 downloads currently. Thank you very much!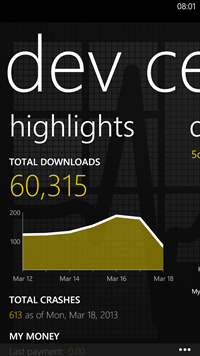 Interestingly, the app with the strongest download numbers recently is Flashlight – probably the simplest app I ever wrote. Anyway, feel free the to check it out if you are looking for a straight-forward flashlight app without any bells and whistles (or ads).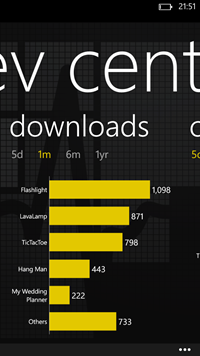 In the long term, LavaLamp is still the app with the most downloads (I guess I should appreciate that and provide an update soon).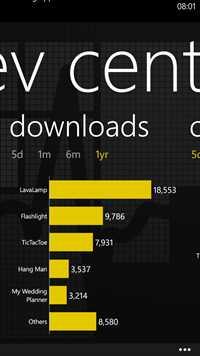 Unfortunately, there haven't been any updates let alone have I published any new apps lately. But this will change soon. I am working on a couple of cool apps right now which will be published to the market place soon.
In the mean time stay tuned or support me by donating (nearly all of my apps are available freely).
The screenshots were made using the Windows Phone app Dev Center, which is an incredibly useful tool for developers to monitor the performance of their apps.